cGMP: Generators, Effectors and
Therapeutic Implications
Further Information
Scientific Secretary
Harald Schmidt
Email: h.schmidt@maastrichtuniversity.nl
Phone: +31 43 388 1421
Fax: +31 43 388 4149
The Conference Venue
Tagungshotel Haus St. Ulrich https://haus-sankt-ulrich.de
(Conference Venue & Accommodation)
Kappelberg 1, 86150 Augsburg, Germany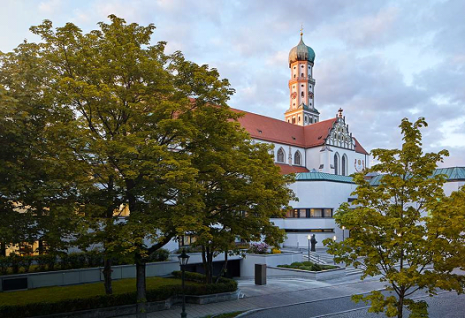 © Haus Sankt Ulrich
Haus St. Ulrich is located in the historic city center of Augsburg on the grounds of a former Benedictine abbey, surrounded by buildings reaching back a thousand years. Situated next to the basilica St. Ulrich and Afra, it offers a great view of the city. The building itself is relatively recent. Alexander Freiherr von Branca designed it in 1975, and it is an example of the style of the 70s. In 2009 the building was thoroughly renovated and sensibly updated. It offers numerous modern meeting spaces, but also spaces to relax, for instance in the indoor pool or the venue´s gardens.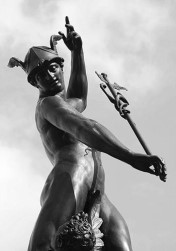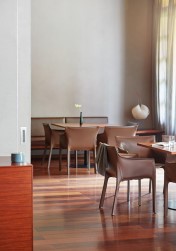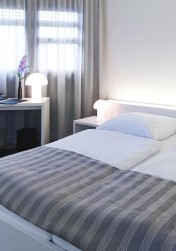 Travel Information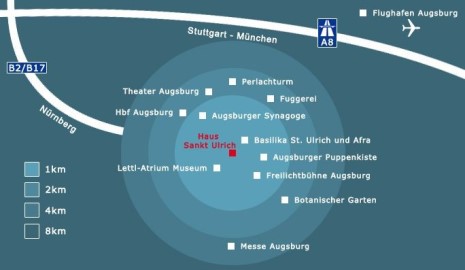 Distances to Haus St. Ulrich

Augsburg MainTrain station
1,3 km
Munich Airport
85,0 km
Autobahn (A8)
8,0 km
From Munich Airport to Augsburg / by train
From the airport, take an S-Bahn (S1 or S8) to Munich Main Station (München Hauptbahnhof), from there take a regional train to Augsburg Main Station (Augsburg Hauptbahnhof).
Augsburg is an ICE Hub, so there are many ICE train connections from various German cities, but there are also regional trains such as "Fugger Express" from Munich main station to Augsburg at least once an hour.
Use the website of Deutsche Bahn for your travel information. https://www.bahn.com/en
From Augsburg Main Station to Tagungshotel Haus Sankt Ulrich
Once you have arrived at Augsburg Hauptbahnhof (= Augsburg main station), you take the streetcar no 3 direction "Haunstetten West P+R". Get off at the second stop "Theodor-Heuss-Platz". From there, it is 100 m to the meeting venue:

Tagungshotel Haus Sankt Ulrich, Kappelberg 1, 86150 Augsburg

This streetcar ride is within the City-Zone, which means you do not have to buy a ticket because the ride within the city zone is free to reduce CO2 emission
Arrival by car
Augsburg is ca. 80 km from Munich and 160 km from Stuttgart, just south of the A8. Use Google Maps to find out how to get to the venue. For a small fee you can use a parking space in the venue´s garage.