cGMP: Generators, Effectors and
Therapeutic Implications
About Bamberg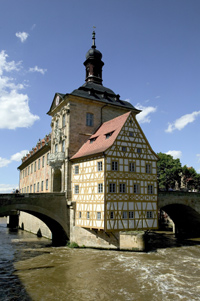 Archiv des BAMBERG Tourismus & Kongress Service, Foto: Sonja Krebs&Erich Weiss
Bamberg is a university town in northern Bavaria, about 200 km east of Frankfurt and 220 km north of Munich, with 13,000 students in a population of roughly 73,000.
The city was first mentioned in 902, and Heinrich II declared it a diocese in 1007 making Bamberg a Christian city on seven hills – like Rome.
Because of the impressively well preserved architectural ensemble in the Old Town, Bamberg was awarded the title of UNESCO World Heritage Site in 1993. Each of the three parts of the old town has its own charm: the Episcopal part of town with the cathedral, churches, monasteries and the palaces of the bishops; the citizens' part of town, enclosed by the split River Regnitz; and the gardeners' district, an area of great gardening tradition. Ranking among the most outstanding buildings are the late romanesque/early gothic Imperial Cathedral, featuring the world-famous Bamberg Horseman, and the Old Bridge Town Hall.
Experience the magic of the past, Bamberg's wealth of historic buildings, the waterways of the River Regnitz and the buzzing atmosphere of a city full of life.
Social Events
23 June 2017
Welcome Reception at Welcome Kongress Hotel Bamberg
24 June 2017
Guided City Walk through historic Bamberg
Historic cloister of the Bamberg Carmelites Monastery: chamber concert
25 June 2017
Award Dinner at Altenburg Restaurant in Altenburg Castle
A bus transfer will be provided from/to the conference venue.